The Hotel Du Vieux-Quebec
The Hotel Du Vieux-Quebec
On this site at 1190 Rue Saint-Jean, Québec, G1R 1S6, Pierre Gauvin in 1767, planned and constructed beautiful gardens that were granted to the nuns who lived around the corner at l'hotel Dieu. In 1774 with the American Revolution underway, Pierre Gauvin took possession of the gardens but built a two-story building for the order of the Augustine nuns. It was a great time to live in Quebec City. There were balls and many parties held by Quebec's high society. Four years later Pierre Gauvin moved in with his family and moved the nuns out.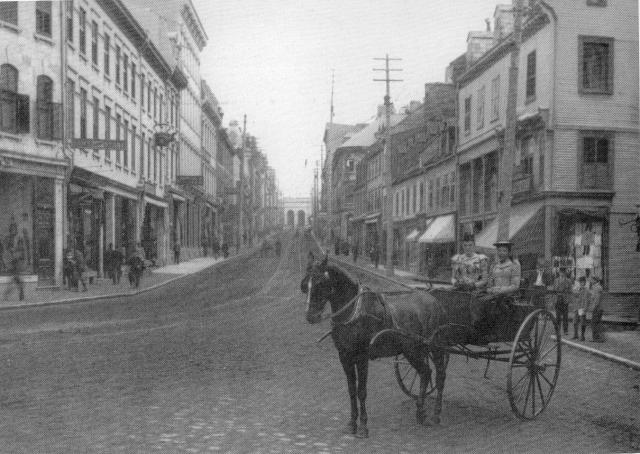 In 1851 Rene Edouard Caron, a lawyer of the Legislative Council, took possession of the site and added stone walls to the front. The building was rented to Leger et Rinfret. A few years later the building was converted into the St George Hotel which included a prestigious theatre and a grand ballroom.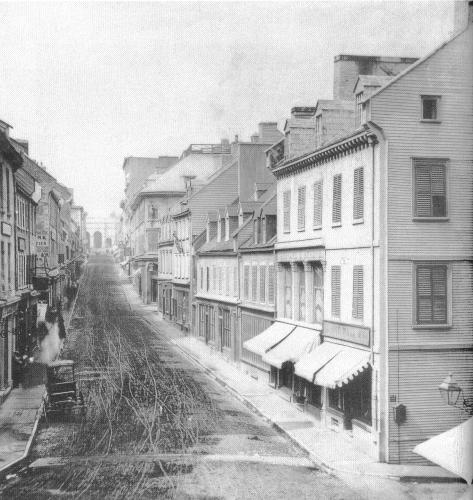 As happened to many grand buildings in Quebec, in 1895 part of the building was destroyed by fire. The building was rebuilt to continue its illustrious saga. As it was so centrally located, a place of entertainment was included, with a gymnasium, bowling alleys, pool hall and a grand gym complete with modern washrooms. The St George Hall had arched doors and extensive patios on its second floor.
A few years later the building was transformed into an apartment building with the inn – Taverne du Vieux Quebec – on the first floor. Rebuilding the inn, The City of Quebec insisted that the architect use the original drawings and plans as the design of first building was unique and not in keeping with other structures on St Jean Street.
The most recent change was during the winter of 2014.
Designers Lemay-Michaud redesigned the ground floor giving it a modern look, but still embracing the history of the hotel. Stone walls, structural supports and century old passages for carriages were revealed. The new lounge displays historical artifacts from the building's long history.
The Keatings were one of the early families that propagated and prospered in Quebec City. Joseph Keating, of the original line of Keatings in Quebec was married March 4th, 1938 – coincidentally the date of birth of the present owner Chris Keating. – and family lore has it that on his wedding day, Joseph misbehaved in Taverne du Quartier Latin – as the tavern was newly named. With over 50 years of experience in hospitality in Quebec City, Chris Keating and his son Justin Keating, have maintained and embellished the present building, maintaining its authenticity and honoring the hotel's place within the walls of this magnificent city.